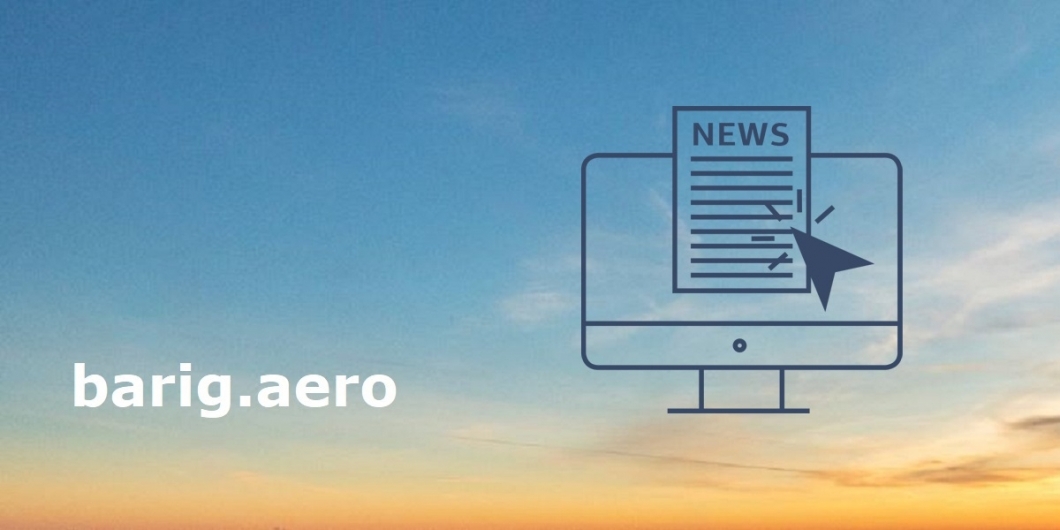 barig.aero I/2020
"Politics must take future-oriented action"
- Focus Issue: BARIG voices clear demands on German Politics
- Alternative Fuels: Hopes pinned on "Power-to-Liquid"
- Single European Sky: Climate protection on European level
- Arbitration: 10 years jubilee of söp
---
BARIG Voices Clear Demands on German Politics
Michael Hoppe, Chairman and Secretary General of BARIG, appeals to politicians to take future-oriented action now and make necessary investments:
The turn of the year is hardly over, but the new year already holds some challenging topics in store. The air traffic location Germany has to face difficult conditions, not least due to the renewed increase in air traffic tax starting in the second quarter of 2020. Companies in Germany and the international air transport industry remain subject to pressure resulting from uncertainties in global trade and persistently rising costs for climate protection.
What we need at this juncture is a strong alliance between society, industry, and politics. German politics must act in a future-oriented manner. More pressing than ever, politicians, in collaboration with the aviation industry, have to set cornerstones and lay the foundation for a sustainable future. Airline companies and all people committed expect clear perspectives and action. The taxpayers' money for all these urgent measures – including approximately EUR 9.4 billion out of the air transport tax since 2011* – has already been paid by companies and citizens; yet, the corresponding investments have not been arranged. In 2020, the government will increase these taxes even further – once again, without the essential earmarking.
Now is the time to invest the billions of euros in tax money and charges in a targeted and far-sighted manner – with the interests of future generations in mind: for sustainable air traffic, for enhanced climate protection, and for valuable environmental projects. Especially in view of the current record federal budget surplus, these investments are long overdue.
Accordingly, these are the chief demands on politics for 2020:
Use the billions of tax revenues already paid and provide innovative, future-oriented frame conditions for the aviation industry!
Priority is attributed to:
far-sighted investments in alternative fuel production, such as the promising power-to-liquid process
quick realization of a Single European Sky
no disadvantageous single-handed efforts on national or European level
effective implementation of the already agreed upon CO2 compensation program CORSIA
We appeal to the government: "Take action with a perspective for the future"
*Source of statistics:
https://de.statista.com/statistik/daten/studie/415181/umfrage/luftverkehrssteuer-in-deutschland-einnahmen/
---
Hopes Pinned on "Power-to-Liquid"
One of the currently most promising approaches to make flying CO2-neutral is summarized under the term "Power-to-Liquid". This concept refers to procedures that generate synthetic liquid fuels by a method using hydrogen and CO2, the latter being taken out of the atmosphere. With the help of electric energy, both substances are processed into a synthetic crude oil from which kerosene can then be derived. Although its subsequent combustion produces CO2, the overall balance remains neutral due to the initial usage of atmospheric CO2 – "Power-to-Liquid" is therefore considered a CO2-neutral process. It is crucial for the sustainability of this process that the applied electricity originates in regenerative sources. The synthetic kerosene conveniently allows for a blending with conventional fuels and can be used within the already existing infrastructure and turbines. In line with such advantages, "Power-to-Liquid" presents the most groundbreaking approach for the aviation industry and climate protection.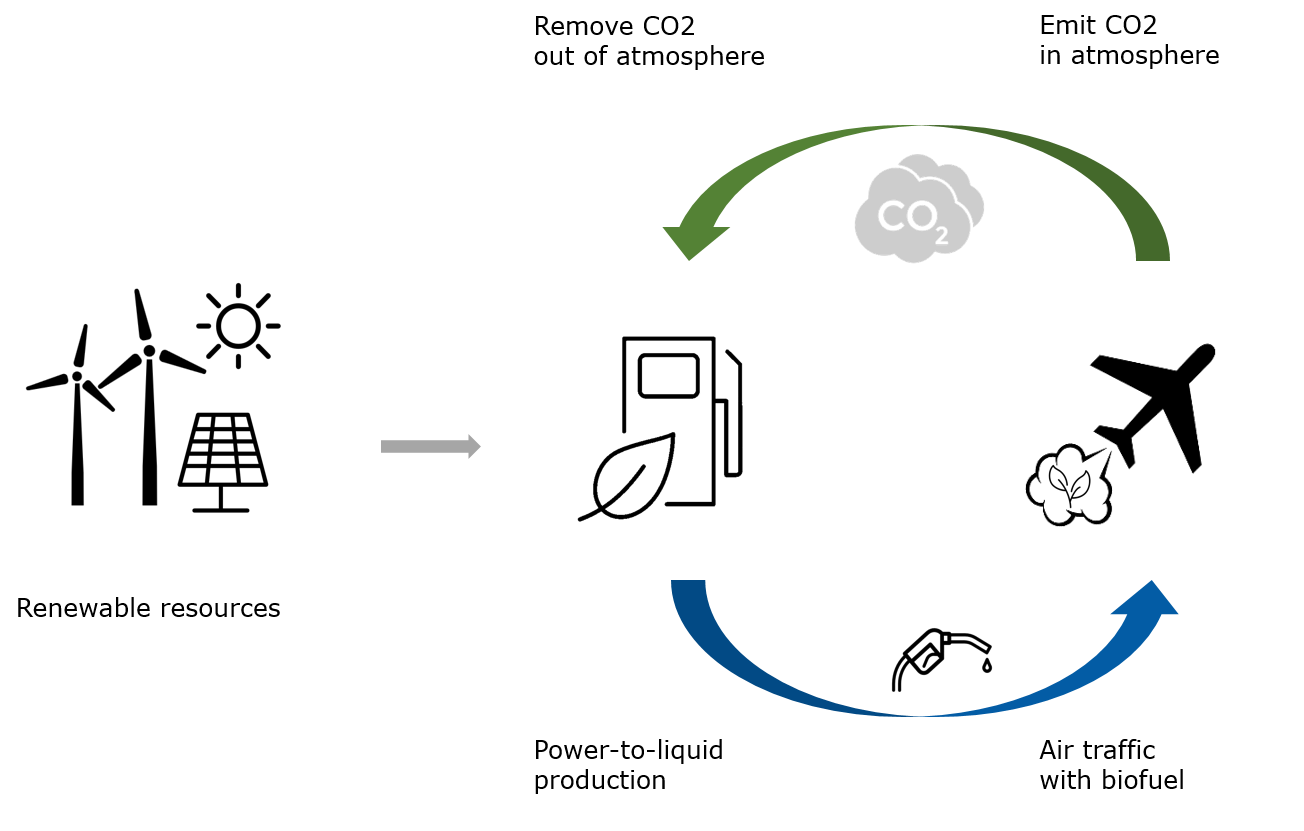 The technological feasibility of "power-to-liquid" has already been established. Currently, the lack of production capacities presents the most challenging obstacle. Since, up to now, the procedure has been primarily employed in the context of research projects, the fuel amounts to approximately five times as much in expenses as conventional kerosene. For this reason, massive investments in industrial production are required. On both national andEuropean level, the promotion of this CO2-neutral technique for fuel production must now be strongly encouraged.
---
Climate Protection on a European Level
Climate protection is one of the core topics of the new EU commission in Brussels. This raises great hopes for airlines because a climate protection strategy that is both farsighted and efficient requires mutual initiatives and efforts. National solo runs are mostly unhelpful and can even turn out to be counterproductive and result in further negative climate impact, as seen in the case of the German air traffic tax. Against this background, BARIG and the airlines explicitly support the initiative of Adina-Ioana Valean, the newly installed EU commissioner for transport and traffic. She wants to finally promote the desperately needed Single European Sky (SES) and clear the blockage that has been existing in this context for years. A uniform European air space would lead to a significant distortion correction and shorter routes, thereby enabling the saving of around 50 million tons of CO2 annually. Furthermore, BARIG and the airlines expect major impulses and projects for the implementation of the SES from the German federal government following the upcoming admission of the EU Council Presidency on 1 July 2020.
Similarly, BARIG demands a resolute EU support for the introduction of CO2-neutral fuels, for example the "power-to-liquid" procedure. This project requires a brave industrial- political EU initiative in order to generate the urgently needed climate-political effects.
---
10 Years Jubilee of söp
Under the heading "10 years of söp – 10 years of arbitration for passenger transport," söp celebrated her first round birthday on January 22, 2020. Since the founding of the conciliation committee for public passenger transport in 2010, the organization has come a long way in its efforts to settle disputes outside of court. While the initial objective was to resolve possible claims for rail transport, the board now covers all public passenger transport. Seven years ago, the aviation industry joined the söp and, since then, BARIG, represented by Secretary General Michael Hoppe, has been actively involved in the executive board of the arbitration committee. Thus, BARIG is committed to a constructive dialogue in case of disputes between passengers and airlines. In this context, BARIG congratulates söp on her 10th anniversary and expresses its appreciation for a good cooperation.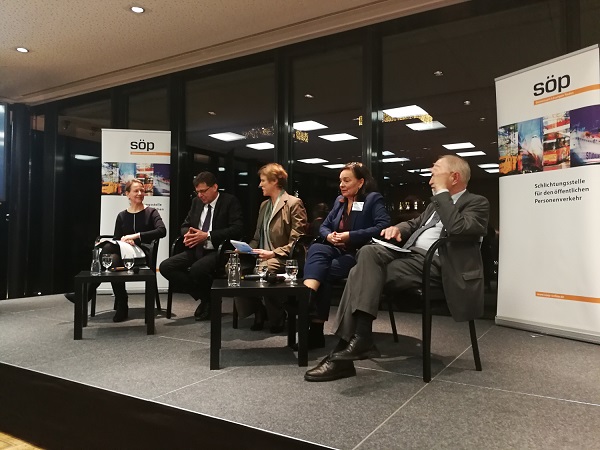 left to right: Elisabeth Kotthaus (European Commission), Michael Hoppe (BARIG), Prof. Dr. Ulla Gläßer (European University Viadrina Frankfurt/Oder), Marion Jungbluth (The Federation of German Consumer Organisations), Prof. Dr. Reinhard Greger (Friedrich-Alexander University Erlangen-Nuremberg)