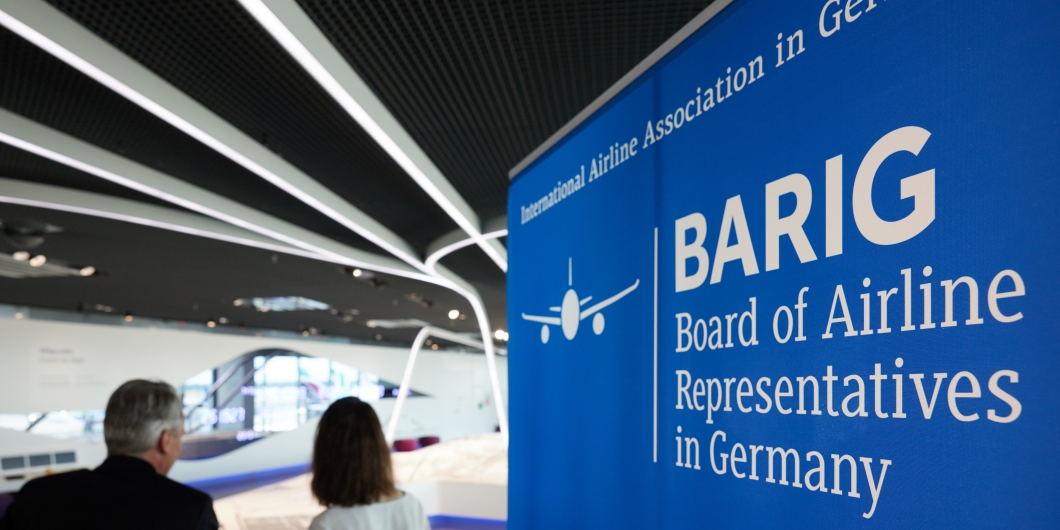 BARIG Full Board II/2022
During the BARIG Full Board II/2022, which took place at the Fraport Visitor Center at Frankfurt Airport on May 31, over 60 BARIG member airlines and partners came together to enjoy numerous interesting presentations, round tables, and networking opportunities.
This time, not only the versatile program but also the location itself invited the community to fully dive into the world of aviation. With a fascinating view on the apron, the BARIG airline representatives were directly linked to the traffic at Frankfurt Airport. During networking breaks, the community could experience the Fraport Visitor Center's multimedia and interactive exhibits and receive aircraft and airport information in real-time.
The official program included several high-level speakers and experts from renowned companies within the industry, providing inspiring panel discussions and valuable insights regarding the transformation of passenger processes, cargo business, and the aviation working environment. After the meeting, the community was cordially invited to a social get-together, while watching the sun go down outside on the apron.
Topics presented by the following speakers and companies:
Keynote Fraport AG
Dr. Pierre Dominique Prümm, Executive Director Aviation and Infrastructure
Round Table I: Transformation of Passenger Processes – New Technologies and Digital Services
Fraport AG (Alexander Laukenmann, Senior Executive Vice President Aviation)
Lufthansa Group (Falk Durm, Senior Director Airport & Ground Handling)
Mazars (Dr. Wolfgang Völl, Partner Consulting)
Singapore Airlines (Alastair Hay-Campbell, General Manager DE, CH & AT)
SITA (Michael Urbaner, Senior Account Director)
Keynote UPS United Parcel Service
Susanne Klingler-Werner, Director Freight Forwarding Central Europe
Round Table II: Transformation of Cargo Business – Sustainable and Economic Changes
Arnecke Sibeth Dabelstein (Christine Kranich, Partner)
LATAM Cargo (Jorge Carretero, Sales Director Central Europe)
Munich Airport (Markus Heinelt, Director Cargo Development)
UPS (Susanne Klingler-Werner, Director Freight Forwarding Central Europe)
Keynote DFS Deutsche Flugsicherung GmbH (German air navigation service provider)
Dirk Mahns, Chief Operating Officer
Round Table III: Transformation of Aviation Working Environment – New Office Structures and Spatial Challenges
Air France/KLM (Carl Schelleman, General Manager Germany)
Lufthansa City Center (Siiri Palisaar, Senior Director Sales Steering)
Stuttgart Airport (Arne Kirchhoff, Senior Vice President Aviation & Accountable Manager)
WSHP – (Holger Strahl, Lawyer, Partner)
Here are some impressions of the BARIG Full Board II/2022: