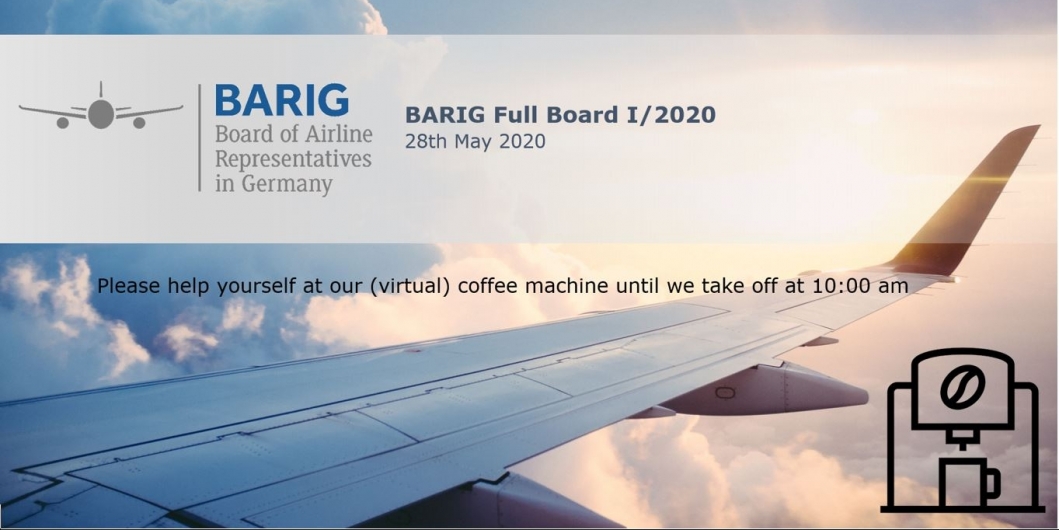 First Virtual Full Board in 70 Years of BARIG History
A historic moment for the Board of Airline Representatives in Germany (BARIG) - for the first time in the history of the association representing the joint interests of more than 100 German, European and global airlines, the Full Board took place via video conference today. A direct success for the association which has been active for 70 years: The vast majority of BARIG member airlines participated in this first virtual meeting.
Nevertheless, the Corona crisis is casting its shadow over the event, as air traffic is one of the areas of industry most affected by the crisis. Accordingly, BARIG's virtual Full Board was strongly focused on the restart of aviation and the measures necessary given the current situation to restore cross-border air transport while ensuring the highest level of health safety for passengers, aircraft crews, and ground staff.
The member airlines greatly welcome the previously expected removal of travel restrictions within the EU as well as to other countries by June 15 and consider this a crucial prerequisite for extending the opening in a responsible manner, i.e. for re-establishing global air traffic.
Top priority is given to health and hygiene aspects to make air travel safe for everyone. The joint efforts of airlines, airport operators, and authorities lay the foundations for safe flying. However, all these efforts can only work if passengers also make their contribution by acting responsibly. Thus, BARIG Secretary General, Michael Hoppe, concludes: "Only through the responsible cooperation of all those involved can we achieve safe flying and far-reaching mobility once more - mobility which is important for people, the economy, as well as trade, and which therefore ultimately contributes to our quality of life."